31st ASID Design Excellence Awards
I couldn't be more thrilled and honored to accept 3 more awards this past November at the ASID Design Excellence Awards Ceremony in Austin. The yearly competition recognizes the finest interior design achievements in all aspects of interior design. 
Many thanks go out to my amazing clients that have given me the opportunity to collaborate with them make their house a spectacular home!
Gibson
Medinah Greens
Rising Star Runner Up:
 Remodel

Rainbow Ranch
Rising Star Winner: Special Detail/Product Design
Happy New Year!
It's 2017 and I am excited! Here at AJID, I have some big goals and changes in the works and all will be revealed in due time but first a huge thank you to all of my clients for allowing me the opportunity to collaborate with them, for those who have referred me to new clients and a quick shout out to all of those who have supported me and AJID along the way! 
What are your goals for this new year when it comes to your home? Are you looking to redecorate or renovate your home? I've love to know more and how you could benefit from our interior design services. If not you, I'd love a referral! 
Around Town and In the News
Robert Irwin Installation: Chinati Foundation
This month has been a busy one! Beyond interior designing, a passion of mine is supporting Austin in varrying philanthropic ways. There have been so many wonderful events that I attended such as:
Ballet Austin Fete-ish Gala supporting artistic programming, arts education.
New Milestones Foundation Gala, which raises awareness about mental illness and intellectual and developmental disabilities.
Meic-Arte Catrina Ball, which proceeds support the Mexic-Arte Museum's Education and Outreach Programs and renowned exhibitions. The gala encouraged its attendees to dawn their best Dia De Los Muertos face.
Laura Villagram Johnson and Me
I finally got to check Marfa,Texas off my bucket list. The 2nd weekend of October was the 30th anniversary celebration of the Chinati Foundation. The weather was perfect, the food was delicious and the art was inspiring. Below is the simple and beautiful tent I got to sleep in at El Cosmico.
Inside Peak: Tent #15
Where you'll find me in November:
Find some furniture pieces and Hygge inspiration at Settlement Home for Children's 41st Annual Garage and Estate Sale, November 3rd-6th
Support local business in Austin at the AYC FAVE Awards, November 11th
I'll be in Key West, Florida touring the homes of Audubon and HemmingwayNovember 16-20th
Interior Design For Outdoor Living?
Creating Cozy Outdoor Living Spaces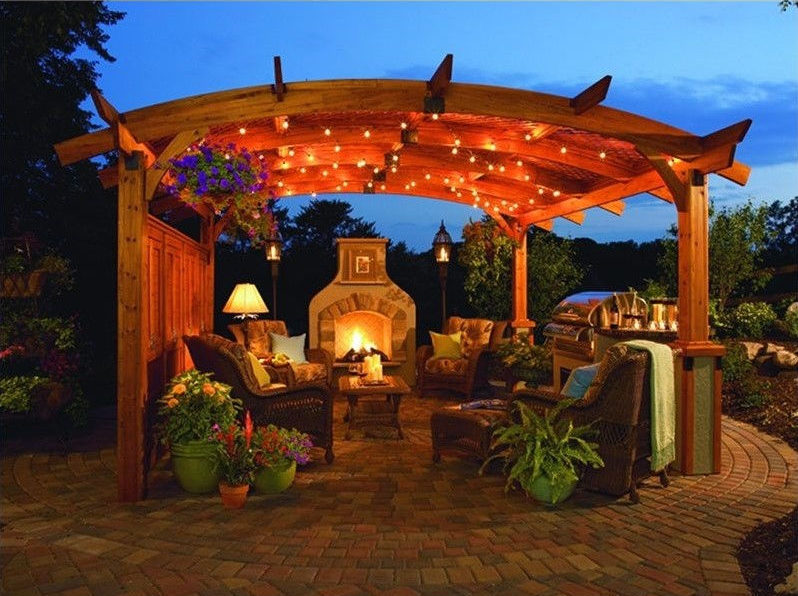 As an Austin Interior Designer, sometimes we take it outdoors. Your home's outdoor living space doesn't have to be of use during the summer only. Here in Austin, there is no reason you can't enjoy it all year long. All you need to do to be able to enjoy your outdoor living space during the winter months is to add a bit of "warmth." Below are some useful ideas on how you can keep yourself comfortable when the temperature starts to drop.
Installing An Outdoor Fireplace
A very important element to keep in mind for your outdoor living space when temperatures start to drop would be a fireplace. Your fireplace doesn't have to be built into the interior wall. You can have them placed just about anywhere and finding and creating a location for it isn't that difficult.
You can construct a small outside wall so that you can have your fireplace setup where you want it. Various styles of "stand alone" fireplaces, like the one shown in the picture below, can be used as well.  These don't involve building with stone or brick and can be very flexible in where they are placed. These are often placed near or under outdoor canopies. They can keep you warm even when the weather becomes quite chilly. If you have ever spent any time around a campfire even when temperatures are quite low, you can remember the warmth and feeling of peace you get just facing the fire and enjoying the company. There's just something about an open flame that a giant space heater can't provide.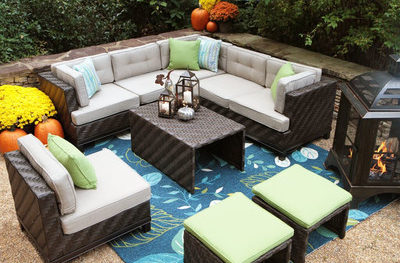 Finding Warmth In A Hot Tub
One of the best ways to fend off the cold is with a hot tub. Picture yourself dipped in the hot tub where the water is set at a comfortable temperature while the cold air blows through your hair. There is nothing like being able to take a nice warm "swim" and enjoy the company of family or friends in frigid cold weather.
Add A Canopy Cover
Heat rises and fills up a covered space. Building or installing a canopy over a place where you have a fireplace or an outdoor heater will help you contain the heat that they produce.
When the weather starts getting cold outside, you don't have to abandon your back porch or patio. Instead, make something that's going to make you want to go outside no matter the weather.
"Interior design" doesn't just have to be restricted to the inside of your home. We can help you plan for your outdoor living areas as well. Give me a call and let's see what we can do together.
Go Wild By Using Stripes For Interior Design Stylishly
Stripes can be a very cool thing to add to any type of space. It doesn't matter if it's a large or small room, or if you're planning on putting them on your pillows, ceiling, or wall, a striped pattern can easily add drama and visual intrigue to any interior design style. In addition to that, they also go along well with floral or patterned designs. You can choose to make them as subtle or bold as you like.
Wide Stripes
Wide stripes that use contrasting colors are great to use if you want to come up with a fluid-like and dramatic space. They can liven up any space and add to its overall aesthetic whether it be a living room or a transitional space such as your hallway. When you choose to go with black and white stripes or chocolate and white stripes, let them be the focal point of the room. Every room inside the house needs to have a showcase piece or a spotlight and if you're going to use stripes, they will work perfectly for that role. When using these stripes, be sure to keep your accessories and art pieces to a minimum so that they don't go over them. This way, your stripes can serve as the conversational element of your room. Always remember that when you're designing with bold stripes, match them with less busy elements so that they can stand apart.
Varying Stripes
Stripes with varying sizes and colors on a wall or surface create an interesting and engaging interior space. In this way, the stripes have different widths and are strategically laid out so they produce a visually appealing piece. When you use different colors in a striped pattern, be sure to use hues that are similar to each other or ones that belong in the same color family. Never use colors that clash against each other or ones that are either all dark or all light.
Using Stripes As Accents
You don't always make stripes as the dominant element in a room. You can also use them more subtly but still let them deliver a striking response. Whether you use them on a vase, chair, pillow, or rug, stripes still work well in making a statement and in complimenting other textures and patterns inside a room.
Using Stripes On Your Ceiling
Yup, you read that right. You can use stripes on your ceiling as well and that can be a very interesting concept. You don't always have to paint your ceiling white. You can use a fun pattern, a wide stripe, or a bold color to add a unique and unexpected element to your ceiling.
Stylish Kitchen Trends And Ideas For A New Year
If you're thinking of doing some remodeling for your home this year, the kitchen is a good place to start. For the year 2016, the emphasis is placed on simplicity and aims to produce a calm-looking kitchen at first glance but will offer various design surprises when you take a much closer look. Below are some great kitchen ideas that you can consider to use for your home improvement projects this year.
Sleek And Simple
Kitchens that contain a lot of flourishes are slowly going out of style and are making way for clean and simple design trends. With this, simple cabinets and backsplashes are paired with understated colors in order to produce a zen kitchen look. However, this doesn't mean that you're no longer going to use accent pieces. Placing a butcher block table at the center of your kitchen or using a brightly painted hood over the range are just two of the ways that you can add a pop to a more monochromatic concept.
Neutral Colors
Neutral colors such as black, dark brown, taupe, and greige are the top choices for kitchen trends this 2016. Treated wood works well as cabinet door accents that incorporate neutral colors with whites and grays that you'll find on the walls. You can use light blue or glass tile as your backsplash for a beautiful accent that will catch the light and will open up the your kitchen space.
Superb Function
Even though kitchen trends for 2016 go for a much simpler look they tend make up for it by putting more focus on functionality. Using space in much more intelligent ways is now trendier than ever because it saves you a lot of hassle and allows you to clean up any clutter hanging around your kitchen. Some of the top trends this year include new uses for drawers, storage underneath seats and tables, and new places where you can put or hang your utensils.
Horizontal Cabinets
Square and vertical cabinets have long been the most commonly used types of cabinets in the kitchen. However, this year horizontal cabinets are slowly taking off because they give more sideways space. These types of cabinets are often designed to swing open from the bottom and provide a much wider range of space. Even though they don't work well in all types of spaces, they offer unique organizational options such as interior spice racks.
Technology Connections
With the dawn of refrigerators that are designed to connect to the internet and the presence of apps for about any type of cooking you want to do, bringing in and connecting your devices inside your kitchen has now become a trend. We can surely expect to see cabinets and shelves that will incorporate tablet stands as well as wires that are hidden from the kitchen mess but are convenient enough to allow you to easily connect your wired or cabled devices.
Rockin' the Kasbah
Some of you know that I am just back from my trip to Morocco. I spent the past week making my way around the country stopping in Casablanca, Tangiers, Rabat and Marrakech.
The sights, sounds and smells were overwhelingly inspirational. Morocco is known for its vibrancy especially in tile design and installation and it was fun to capture while traveling to each city.
50 Shades of Grey: Sherwin William 7000s
I know what you're thinking but the 50 shades I'm referring to are colors not the character. For the past few years I have really enjoyed using all shades of a grey for back drops in my client's homes. My most favorite grey shades can be found in the Sherwin William 7000 Series. Below are some of my top picks. 



A couple tips when selecting and sampling paint color. Paint looks different at different times of the day. Sun can have a big impact on how the paint shows up on a wall. I like to sample paint on a white piece of cardboard, preferably 12″ x 12″ in size. You can easily move the cardboard piece around without having to paint directly on your walls. Be mindful when sampling paint. Most manufacturers only sell sample sizes in a satin or eggshell finish. So if you are aiming for a flat finish know that the sample may have a little more sheen than what you specify in the end. 
Inspired: Vertical Garden
In a matter of months, cooler temps will be on our doorstep so why not bring your garden outside in. My client and I are developing and designing a vertical garden wall in her living room with the help of a landscape architect. After doing some research, this is no small undertaking but I am looking forward to the end result.
If your working with a black thumb or need a hassle free indoor garden try playing around with succulents. Succulents are resilient, low maintenance and come in a variety of shapes and sizes. Grouping succulents together can create a fun aesthetic to any home environment. Need something to house your plants in, then look no further than West Elm glass bowls to hold your newly purchased succulents.
On Trend: Heavy Metals
Not sure about you but my affinity for all things metallic is growing everyday. We have become accustom to brushed nickel, stainless steel, chrome and oil rubbed bronze but brass and gold are making a strong and not to be ignored debut.
Don't worry, its not the brass and gold of yesteryear. The reinvented finishes finishes of today have a contemporary spin making it suitable for all types of uses from pillows and accessories to faucets and lighting.
PILLOWS|TILE|FAUCET|BOWLS|WALLPAPER|CHEST|LIGHTS|CABINETS